Why I Started A Food Tracking Challenge!
**This post contains affiliate links and I may make a small commission at no additional cost to you.  Thank you!
After being consistent with morning workouts since the last week of June, I had not seen the results I thought I would be seeing by now.  Since I quit procrastinating with exercise since the end of June, you can read my post HERE on why I decided I needed to make another change to see the results I desired.
Having been a Weight Watchers member since I was in my teens, for the first time EVER, I decided to cancel my long standing membership with Weight Watchers.  Weight Watchers is a great program. However, with their recent program changes I felt it was not the plan for me anymore.
When Weight Watchers had their food exchange program many moons ago is when I did my best.  It is my opinion that over the years with the program changes and growing older, it wasn't working for me anymore.
Gina, my  official fitness buddy, told me about free fitness application called "My Fitness Pa"l in July.  Apprehensive, I  downloaded that day and set my calories at the higher limit since I was working out 5 times a week.  Both of us choose to eat our exercise calories.  Keeping track most days, I told myself if I didn't see the results I wanted, in September I would adjust my profile.  That's when the food tracking challenge started!
Why I Started A Food Tracking Challenge!
When I am given a challenge, my secrete competitive streak emerges.  After spinning on September, Gina mentioned starting a food tracking challenge after asking me if I was seeing the results I wanted with "My Fitness Pal".  Embarrassed and openly admitting I wasn't seeing the results I had hoped for, I shared that I had decided to adjust my profile.  This is when Gina came up with the food tracking challenge!
On September 4th, we took pictures of ourselves and made a commitment to track EACH AND EVERY DAY!!  The good, the bad and the ugly!  Even if I have had a bad day, I count it towards the next day and adjust.  On my exercise days, I stick close to 1,500 calories.  When I haven't exercised that day, I stick close to 1,200 calories.  Even though I am not perfect, I have tracked extremely better than I have 3 months ago.
Early September Pre-Food and Fitness Tracking Challenge Pictures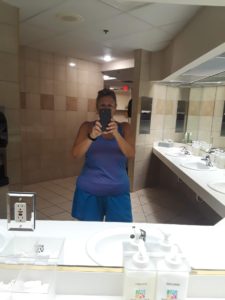 Ok.  Here is me sharing my September 4th, 2018 pre-tracking challenge pictures and I will post the post pre-food and fitness tracking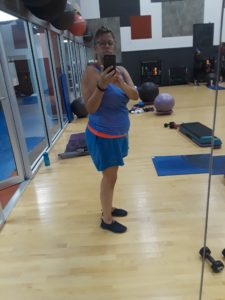 pictures after the first part of October:


Ok..I will be honest.  After seeing these pictures, I started beating myself up.  Why was I not skinner?  Why did I continue to go to classes, pass up awesome food at work and keep making a diligent effort to lose weight?  When I looked at these pictures, I got tears in my eyes.
However, when I compared the pictures to when I first started the fitness challenge at the end of June, I realized I could see changes.  They may not be as fast as I would like them, but it is a step in the right direction.
Menopause And Me
Menopause has changed everything about my body.  Sadly, this is is my new normal:  Losing weight at a much slower pace.  Hormones out of whack and not feeling the same on any given day.  Metabolism slowing to that of a snail's pace.  This is just the tip of the iceberg.
I can tell you I have NEVER worked harder to lose weight – with such little/slow results.  However, I do not want to give up and I can honestly say if it weren't for my fitness buddy, I know, without a shadow of a doubt, I would have given up by now.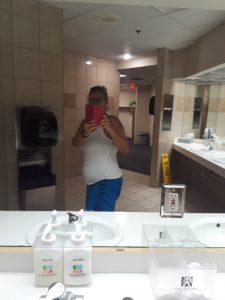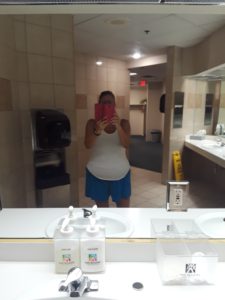 How about you?  What has been your exercise or menopause experience?  I would love to hear about it as this phase of life has been extremely frustrating for me.
Do you want to join us in a Food and Tracking Challenge?  Please sign up below to get your FREE GIFT of a ?Food and Fitness Tracking Planner and report back your results early October!  I will be posting ours!
Have you participated in any food or tracking challenges? Please comment and share your experiences!