This post contains affiliate links and I may make a small commission at no additional cost to you. Thank you in advance for reading!

Recently, some negative comments were left on my blog and Pinterest account regarding a post I had published, "The Ugly Truth of Growing Up with a Bipolar Mother".
These were my first negative comments and at first my face stung. Forever learning new coping skills in my old age, I took a deep breath, counted to five, then had a realization that made the stinging go away.
The comments were from bi-polar individuals themselves and they didn't like hearing the truth of how their illness has affected others!  In retrospect, I couldn't take this personally as most likely they were reacting to what their own bipolar illness has done to others.
Here is the comment that struck me the most when I read it: (in their own words)
"Well let's just hope you or your children don't get bipolar. I think you sound very in caring when you should of been more understanding to your poor mother . I have Bipolor and I'm nothing like your poor mother it's people like you that should be ashamed of your attitude."
You can read my answer to her comment on my post. Comments such as these are what sparked new ideas of what to write in my pending book and upcoming posts of how bipolar illness affects others.
Living with Bipolar Illness
As much as the previous comment burned, my posts are in no way shape or form meant to make someone feel bad for having this illness.
However, I will warn you: I write about the truth of the effects being raised by a bipolar mother – along with the truth of the manic rages.
For years, I did not discuss this with anyone, and therapists saw something in me at the time and they decided it was not a good time to bring up my past at that moment.
Now, decades have gone by and I am ready to start exploring, and sharing, of how being raised in such a turbulent household.
Those that suffer from the abuse of others have a right to feel what they feel and we have a right to express how the verbal, emotional and physical abuse has affected us.
A Different World
Those who have suffered from abuse see the world very differently.  More importantly, this still happens to me to this very day!
Childhood trauma is how we developed our anxieties, fears and insecurities. Furthermore, if you want to start changing this internal dialogue, it takes a lot of work to overcome the thoughts and reactions to the world that have been there since childhood.
And that, my friend, is not an overnight process.
I found this video by Mel Robbins, a famous Life Coach, talking to a woman who was raised by an abusive mother last month.
Mel brings up some very good points on how we can view things from a different perspective in order to cope.
Nevertheless, I didn't experience any of the love this woman talks about with her mother. Yet I am happy for her – at least she has some good memories of her mother while she is trying to overcome the emotional abuse she suffered from.
What is discussed in the video is just the tip of the iceberg on how childhood abuse affects us.
Until we are ready to start deciphering the madness we went through, we stay locked in the dark until we are ready to see the light. 
Your Internal Dialogue 
When you have been raised in such a turbulent house as mine growing up, you develop so many internal dialogues in how you see the world, we don't even realize we have developed something different from others.
Again, we see and view the world very differently.
Mel Robbins says it best in her video: "You grow up being on guard all the time and waiting for the shoe to drop."
Sadly, even long after you are out of that violent household and have moved on with your own life. 
And it will stay there, deep inside, affecting every fiber of your being, whether you realize it or not.   Until you are ready to start digesting some of the shit you went through and learn how to overcome it and stop letting it affect your everyday life. 
What's It Like to Have a Bipolar Mother?
In a nutshell, it's hell.  The highs and lows of bipolar are similar to a rollercoaster ride.  One minute you are giggling and happy to get to the top of the hill and the next second you are plunged into fear, terror, and darkness and wondering when it will stop.
It's coming home from school and not knowing what mood mother is going to be in.
It's being quiet and being the "good" little girl the best you can to avoid another turbulent outburst.
It's being on the receiving end of the manic rages mother goes into and never knowing exactly WHY she chooses to take her rage out on you.  
It's doing what you are told and not questioning it.
It's hating to come home to Elvis music playing on the stereo since this is the first sign of another breakdown.
It's constantly asking yourself one question: "Why me?"
What Are the Effects of Emotional Abuse?
As Mel Robbins stated in the video, I can certainly relate to how the abuse has affected my nervous system.  Since childhood, I have suffered from IBS and anxiety.
As in the article from Psychology Today, "Healing from Emotional Abuse", I can relate to many of the symptoms that are talked about in this article.
Such as:
Hypervigilant anxiety
Worrying too much
PTSD
Startled responses
Flashbacks and memories
Until we feel we are ready to start coping with emotional abuse, we won't change our inner dialogue. 
Interestingly, the sad thing is when others notice certain behaviors in us, they have no idea why we appear to worry too much or have too much anxiety. We just bite our lip and smile. (Or at least I do.)
Personally, I am 56 years old, my life has settled down and I now have the time to start dealing with the trauma and learning how to change some of these ingrained learned behaviors.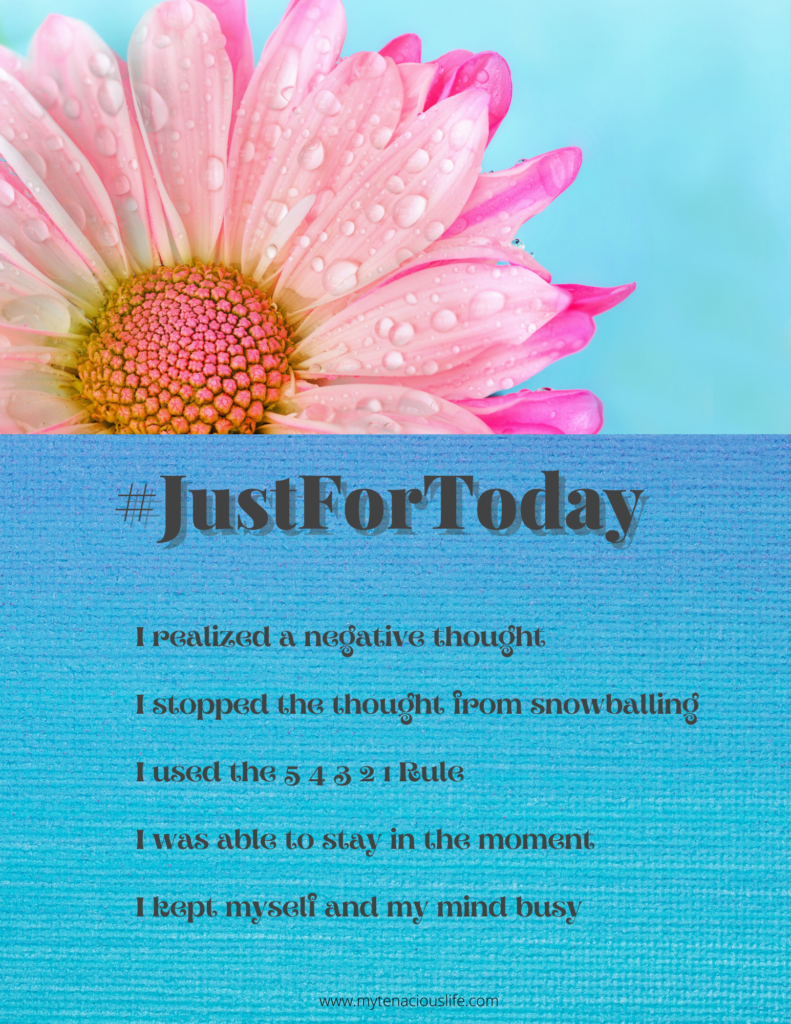 Just For Today
It sounds so cliche –  but so true.  Just for today work on changing one thought or interpretation.  On not letting your mind drift back in time when you recall a bad memory. 
Learn to be aware of when you feel yourself becoming paralyzed in fear and self-doubt. 
Matter of fact, as I was writing this post negative thoughts started entering my mind and I started to paralyze myself with anxiety and fear.
Thoughts such as:
"There are so many writers and bloggers out there you can't compete."
"Who is going to listen to what you have to say – you aren't anybody."
"This is stupid to keep trying."
"Why did I even think that I could make this work."
"You aren't good enough."
And this is when I would lose my motivation to write and I would quit for a few months and slowly try again.
You know what this is? This is my childhood trauma talking!
Quickly realizing what was happening in my brain, I used the 5- 4 -3 -2 -1 rule by Mel Robbins and kept writing!
You can watch the video below that explains what this is and it WORKS!!
Here are some of the situations that I have used the 5-4-3-2-1 Rule to stop my brain from paralyzing:
Overcoming anxiety at work when my mind would go blank
Recognizing my anxiety and the negative thoughts that come up
Recognizing "I am good enough"
Appreciating I am different from others!
However, one thing I still struggle with is feeling left out and I have to quickly do some checks and balances in my brain to not let my brain start to spiral.
What is Your "Just For Today"?
Comment below on what you want to change Just For Today.
Don't forget to stop back and comment on what you were able to change "Just For Today".
P.S. – True Story – I had a rough emotional week last week. There were several times I used this checklist and the 5-4-3-2-1 Rule to keep my mind from spiraling.
Furthermore, I decided I needed to take a break this July 4th weekend. I tried to relax, went to the pool, and binged watched Netflix. My brain needed that break and I mentally feel better now.
Learn how to recognize and tell yourself it's o.k. to pull back sometimes for your mental health!