Mamma Mia Girl's Day Out 2018
When the girls at work planned an impromptu breakfast and movie on a Saturday morning last weekend, I was reluctant to go.  Not caring for musicals, I told my coworkers the only musical  I could sit through since high school was Grease.  It's an ADHD thing with me – the music is usually loud and the musical doesn't hold my interest.  However, deep down I didn't want to go because of the reason for the outing as I was feeling the early stages of grief. 
Not Wanting To Go
The girls' day out had been planned for my dear friend, Lidia.  Since my employment with my current company in 2015, I have grown extremely fond of Lidia.  Lidia was the first friend I had let into my life in a long time.  After a bad experience, I had sworn off all friends.  No way I was going to become close to someone again!  I was not putting myself in the position to be backstabbed anymore.  However, I started growing fond of her.  Lidia has a good heart, is thoughtful and most of all – FUNNY!
Blogger Crystal Paine often blogs on the struggles of opening of to friendships and I can SO RELATE to this!  Crystal recently started opening up to friendships and this stuck in the back of my mind, no matter how much I fought it.  As time goes on, we shared our struggles and frustrations.  Lidia shared how she was diagnosed with melanoma 10 years ago and is a cancer survivor.  Being blessed with good health, I admire Lidia's struggle.
Sharing The Bad News
Despite Lidia's follow up care and things being "all systems go", that was not the case two months ago.  She started having pains in the middle of the night in an area underneath her ribcage.  The oncologist placed her on chemotherapy for six months and performed a follow up test.  At that point, we learned the cancer has spread to her lungs.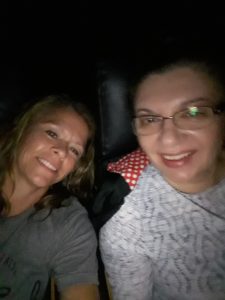 I cry for several nights over this news, yet I don't tell her.  We watch her come to work in a good mood, happy the sun is out and that I have brought her flowers from my garden.  This causes me to secretly cry at my desk.
Further Testing And Hope
As she goes for an MRI today to see if the cancer has spread to her brain, we provide her strength and hope.  I can't stand the thought of losing her, yet we have to remain positive.
As we watched the movie together, we laugh at the characters that we see ourselves in.   Lidia sings to the songs in the movie and laughs and causes my heart to swell.  No matter what, I will love this dear friend forever.
All we can do is hope and pray for the best.   Stay tuned.