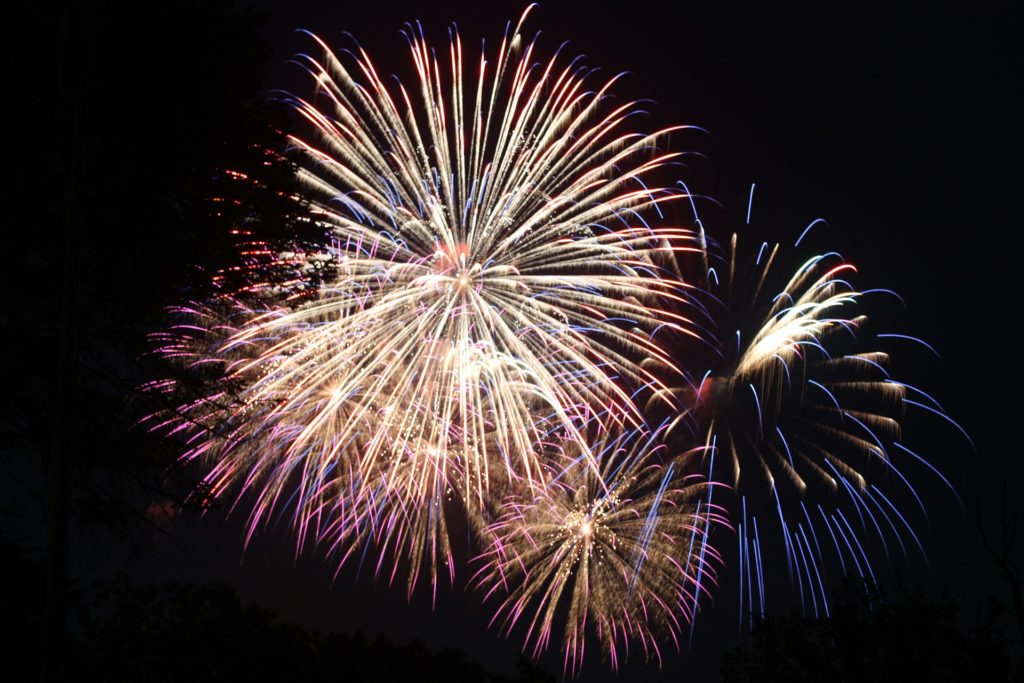 Grief, 4th of July Reflections And Moving Forward
This post is obviously not in line with the 4th of July  holiday and I debated about posting.  Maybe this was too personal on sharing my grief.  Realizing the reason I started this blog was to share my life experiences, I decided to post.  Grief is one of my major struggles.
One of the happiest times for my husband and son was the 4th of July and fireworks.  This classic holiday was spent going to family picnics and my husband creating a fireworks show.   We would argue about the cost of the fireworks every year.
After my husband's passing, the tradition continued with my son.  It didn't feel right to take away what cheerful memories he had left of spending time with his father.
Putting On My Big Girl Pants
Not having attended a fireworks show since my husband's death, something stirred in me this year to go to a fireworks show this year.  We walked to the park and wait for the show to start.  Watching the families having fun, I felt the waves of anxiety and panic starting to wash over me.  Not liking crowds, I start to think of leaving and what a bad idea this was.  Needless to say, I put my big girl pants on on stayed.
Something Strange Happened
The sky darkened, the music started and so did the illuminations in the sky.  As this started, something strange had happened.  It was as if a movie that had been locked up for 12 years started playing and I had a front row seat.   Here is what was showing:
Attending our first Cincinnati famous WEBN Rozzi fireworks show while we were dating and me falling in love with the fireworks that showered a Cincinnati bridge.
My husband setting off fireworks in the backyard of our new house.  That year he made our elderly neighbor, Rita, angry as one of the rockets he had set off during the day, came down and hit her in the head while she was gardening.  (Thankfully she wasn't hurt!)
The next year, he added the masonic boom to his collection.  The male neighbors joined him on the corner of the street and shortly after it sounded as if several bombs had gone off and me worrying about the police showing up.
One year he set up a display with his step-brothers at their house in the country and this added more fuel to the firework, so to speak!  As the family was growing, so was the fireworks display.  That year, a rocket had flown backwards and veered towards those sitting on the deck and almost hit his grandma.  (Again, no one was hurt but gave everyone a good laugh!)
Watching fireworks from his dad's house on the deck along with the family after I had given birth to our son who was six months old.
As his health faded during his last years, we attended fireworks shows in our city.  With me pushing him in his wheelchair among the crowds so he could at least watch the show he could no longer put on.
My son has carried on carried on his father's fireworks tradition and now the holiday is spent with my family in upper Ohio each year.
Moving Forward
At the start of the show, there was a version of the bridge firework that I enjoyed.  Immediately, I knew this was one if his signs.  We often joked about what signs he would show me after he died.  I believe this was one of them.  I also reflected about how much my life has changed as the show went on.
I am stronger, more confident and seasoned.  My circle of family and friends has changed.  We outgrow people as the seasons of our life changes.  And sometimes, who we thought were friends and family, really aren't.  Yes, my circle has changed dramatically.  But then so have I.
I need to give myself more credit.  There were a few times, I almost didn't get back up, but I did.  Now, this season is about me – and that's ok.
What challenges have you faced and recovered from?  How did you recover?