Aging Skin Can't Compete? Find Why YOU Need MD Complete!
After turning 50, I started to feel the effects of aging the jokes were made of during my youth.  Now feeling those aches and pains myself now, I  found myself warning the youth around me of the effects of aging.  As I see it, gaining a few pounds can be easily disguised with strategic clothing.  Arthritis, high cholesterol, achy knees can be helped with medicine.  However, as we age facial skin that no longer has that youthful, vital appearance can't be disguised.  Not wanting to wear makeup of clown proportions to cover up my aging face, I found out why I needed MD Complete!
As I shared pictures of my younger years with others, each person would make the same statement that hurt:  "Look how young you used to look!"   Seeing and hearing the age that was taking place in my face disturbed me the most about getting older.  This is when I began my serious search of anti-aging products and discovered MD Complete.
Discovering MD Complete
Soon after, I discovered the MD Complete skincare line that was created by Dr. Brian Zelickson and decided to give the product a try.  The quality, quantity, competitive pricing, as well as being located in my hometown of Cincinnati Ohio, is what caught my attention.
Dr. Brian Zelickson's extensive background and training includes the following:
Board Certified Dermatologist and trained at Mayo Medical School in Rochester MN
Graduated from the University of Colorado in 1982
Experienced in electron microscopy, laser surgery and cutaneous light and laser interactions
Faculty Member of University of Minnesota Medical School of Dermatology
Member of American Academy of Dermatology and American Dermatologic Association
Practicing since 1990
Has won 46 awards
Completed 70 different clinical studies
Sees 10,000 patients annually
Since the aging process avoids no one, Marie Osmond has had her struggles as well with the aging process and was on a mission to find what worked with her skin.  After trying many products and not seeing any results, Marie tried MD Complete.  Marie was so impressed with the results, that in January of 2018 Marie Osmond  announced she had entered into partnership with MD Complete!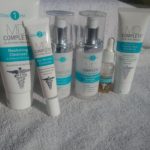 MD Complete Regime
The product arrived on time and was packaged extremely well and had a clean, professional appearance.  Instructions are given in great detail of how to get started and how to complete your morning and evening routine for the next 90 days.  Animal testing is not used with any of the MD Complete products and there is a 90 day refund policy if you are not satisfied.  There is also not an automatic monthly shipment that you will be billed for.
You will start with prepping your skin for three days  by using a Retinol peel mask at night.  On the fourth day you will start your morning routine and evening routines.  Only a pea-sized amount of the products are needed and this is another reason I fell in love with this product.   There was not any irritation to my skin with any of the products.
Within the first few weeks of starting MD Complete, my face started taking on a brighter glow and  appearance.  The next month, I started getting compliments on looking more rested and refreshed.  Lines around my eyes, mouth and chin were becoming less visible and my confidence was improving!
MD Complete Results
As time passed, the appearance of my skin was appearing brighter and more supple.  Dark spots had diminished, but not as much as I would have liked.  However, it is not realistic to expect a product to totally erase the effects of aging and sun damage of 54 years within 90 days.  That being said, I was extremely satisfied with the results that had I have seen take place within 90 days.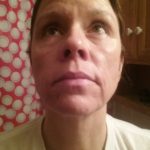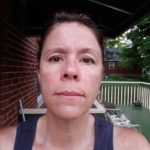 I would highly recommend this anti-aging product and MD Complete also carries an acne line as well.  Although I have not tried the acne line, I am confident positive results will be achieved if used.  The product provides a generous quantity and is priced competitively.  I hope you consider giving this product a try during your anti-aging efforts!  Please share your anti-aging experiences.  I would live to hear your story!
You can purchase MD Complete skincare products by using one of the links below!
*This post contains affiliate links and if you decide to make a purchase, I may make a small commission, at no additional cost to you.