The Making Of The Peach Truck
This is a TRUE American Love Story!  Realizing there was a true peach vintage shortage in Georgia, Stephen and Jessica Rose took a chance and quit their corporate jobs to carry on the tradition of the peach farm in Stephen's family.  The Peach Truck was started in the summer of 2012.  Stephen and Jessica bought a '64 Jeep truck and started selling peaches.  It was a HIT and people couldn't get enough.  And this is how The Peach Truck was born!
Find Out What Happened When I Visited The Peach Truck!
I discovered The Peach Truck for the first time last year and became immediately smitten.  From the true Southern hospitality of the workers to the peaches.  Even though the weather didn't cooperate fully last year, The Peach Truck was still able to produce quality peaches.   HOWEVER, with weather permitting this year, the crop of peaches this year are TO DIE FOR!!!  When I opened up the boxes, I got tears in my eyes at the shear size of these peaches!  You will NOT find anything of this nature in the grocery store – I GUARANTEE IT!  Anyone who knows me knows I LOVE fruit and this exceeds all of my fruit expectations!  Just look at this JUICY GOODNESS!!  Is your mouth watering yet???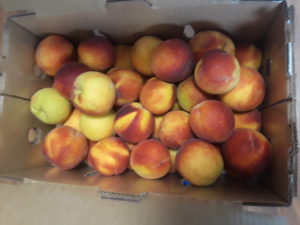 I have plans to make peach jam, peach muffins and might even try peach vodka this year! At Christmas time, peach jam would make a wonderful gift!  I would much rather have a homemade gift, hands down!  One of my BEST Christmas memories is the year after I had lost my husband, one of my son's mothers left us a package of homemade jams she and her mother had made during the summer.  I literally cried when I opened it – it was such a heartfelt gift to me.

Why You Should Visit The Peach Truck!
You should visit The Peach Truck because:
You will have fresh, quality fruit that will last through the winter if you plan it right.
As soon as you take your first bite, you will thank me.
You will find yourself becoming a Peach Snob!  Hide them well.
These peaches will make a great gift at Christmas time.  Who doesn't like peach jam or peach vodka?
As you stand in the peach line of excitement, people start sharing how they use their peaches and share recipes.  I learned that one fellow makes peach pies and freezes them!
The Peach Truck Tour Information
The Peach Truck is currently delivering to Tennessee, Kentucky, Ohio and Michigan.  You can find the tour schedule HERE.Peaches can also be purchased online.  A 25 pound box is $40 and is worth every penny.  I can guarantee you it is going to be one of my guilty pleasures each year.  The pecans are $14 a bag (I already used them in muffins I made when I got home – I couldn't wait!)
Pictures Of My Peach Truck Experience!
The staff was so nice and appreciated the fact that I had on my Peach Truck swag for the occasion and gave me a FREE BAG OF PECANS!!  Seriously though, they are so hospitable and organized.  They have this Peach Truck experience down to a science.  While you are in line, the workers are taking orders and handing you Peach Truck chips for you to hand to the workers when you get up to the line.  I had overslept and debated on going worrying about the line.  (Silly me!)  They had me in and out in about 20 minutes.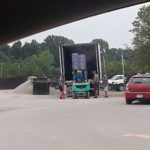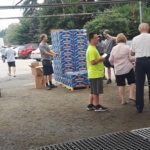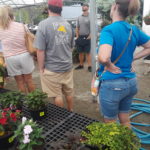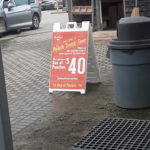 The Peach Ending – Until Next Year!
It amazes me that the very people that say to me, "I can't believe you are paying that for peaches.  They are just peaches."  Then – after I get home, they shly ask, "Can I have some of your peaches?"  Sure you can – if you want to shake my tree!!
The Peach Truck Response!
Hey, Anna!
Thanks so much for sharing! We appreciate you coming to see us in Cincinnati and taking the time to blog about your experience!
Hope you're having a great week 🙂
***I am not an affiliate of The Peach Truck –  they certainly don't need to advertise!  I am just sharing the love!