The Handcrafted Sandals
I would much rather handcraft a gift for someone than buy a gift for someone.   Making a gift is special as it is a gift from the heart.  Giving someone the gift of your time is the best gift.  That is why I enjoyed making these handcrafted sandals for my coworker!
The Cost
These birthday sandals weren't that expensive to make and took me about two hours.  In materials I spent $10 since I had some of the supplies on hand.  I purchased the $2 sandals at Old Navy and I tried a fabric glue for the first time and that can be purchased on Amazon for $6.93 (link below) and can be used for several pairs of sandals.  (I actually liked this fabric glue better than Gorilla glue or using a glue gun.)  The ribbon was $3.99 a roll and is enough for two pairs of size 7 sandals for myself.  For around $8 – $10.00 you can handcraft a pair of sandals as a gift or for yourself!
The Fun Of Making and Giving
Time passes when I am crafting.  Having anxiety, ADHD and occasional depression – I have found that keeping my mind and hands busy are a must and here is why:
 Crafting helps calm and settle my mind.  Sometimes I go to a craft store just to look at all the possibilities and my mind is transcended into a new world.
 Crafting builds my confidence.  Creating something instills that I am not a failure and there are at least some things I can do right.
 Giving is better than receiving.  When I am feeling really down, I make something for someone and I love to watch their face light up – just because!
 Increases my creativity.  I am not creative in all areas of my life but being interested in something that I can do gets my creative juices flowing and I feel better about myself.
 Allows me to spend time with my family.  Who doesn't like to spend time doing crafts and having cocktails!
The Sandals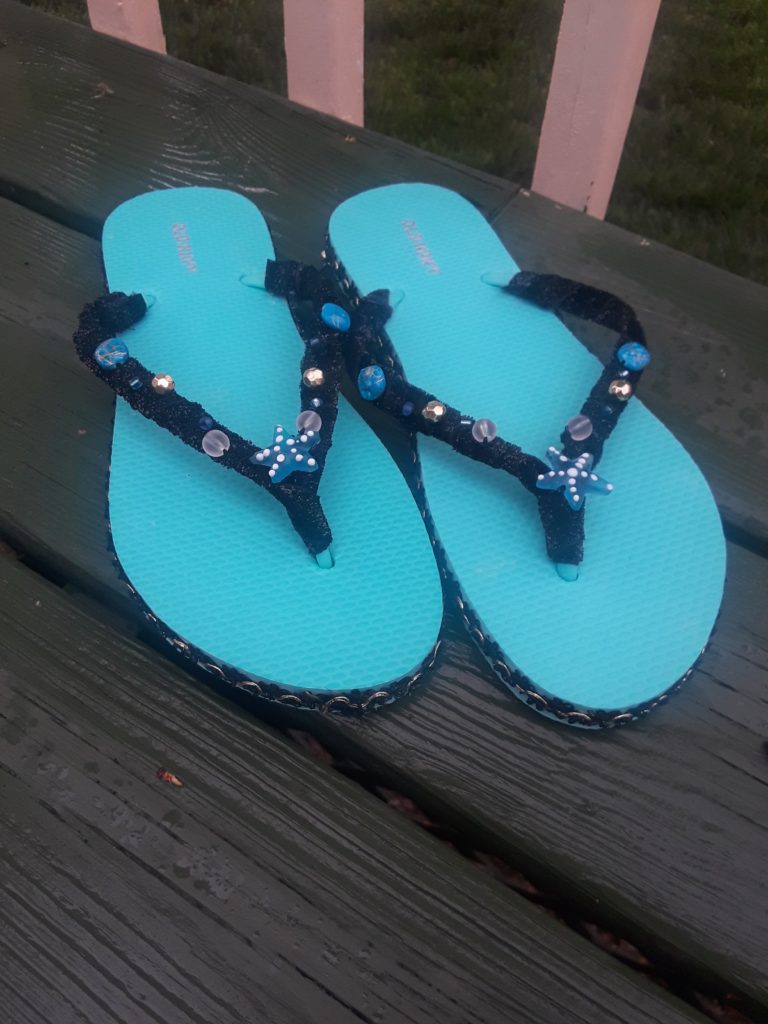 I enjoyed giving these sandals to my co-worker as much as she enjoyed receiving them!  She just got back from the beach and still in vacation mode, she adored them!  It was even mentioned I should create and sell different types of sandals.   I have been there and done that and competition on Etsy is too tough for me.  I would rather be blogging.
**This post contain affiliate links and I may make a small commission at no additional cost to you.