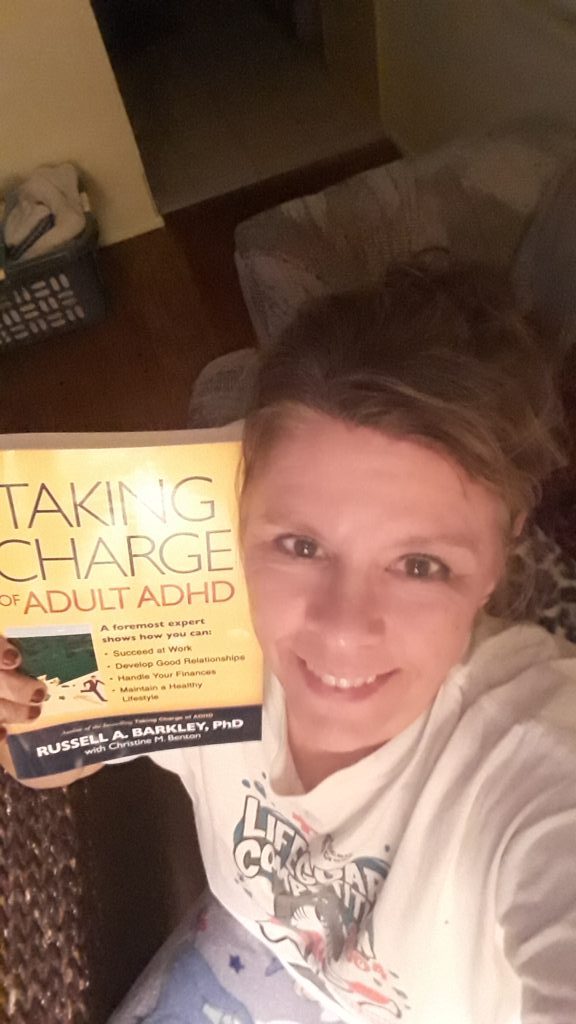 Energetic
Having ADHD has allowed me to have abundant mental and physical energy to endure unfortunate life challenges whereas others are not able to deal with.
Personally, I have been told by doctors, psychologists and nurses they have seen other patients not being able to cope with the stressful life events that have been presented to them.
Unfortunately, others have taken paths in lives that lead to unimaginable outcomes.
Don't get me wrong – I can totally see those patients' points of view and I have fought to take a less than favorable road myself.

Regrettably, sometimes poor choices are made during these trying times in others' lives and they veer off a different path in life.
My son had ADHD and was diagnosed and put on medication at age 4.
Becoming a widow when my son was 7 years old would leave me in a difficult spot in my life for many years to come. Raising our energetic son alone was quite a challenge and I can relate to what parents of raising ADHD children go through.

My mother was diagnosed as manic depressive and I had an extremely difficult childhood.
I can't tell you how many nights I have cried myself to sleep and wanted to give up. To just quit and not care. But that was never an option for me.
Quite frequently, others would comment on not only how energetic I was. They would share with tears in their eyes how I was the strongest person they knew.
In light of these positive views shared by others, there was no way I could explain the inner turmoil I felt during these stressful times.

In hindsight, my parents choose not to medicate me at a young age and this was a big mistake and I paid the price until I was in my 50s.
Growing up on my grandparents' farm, I also learned valuable life skills that cemented my core values, such as:
Doing whatever it takes to get the job done
Simpler is better
We don't complain and appreciate what comes our way
Emotional
Does ADHD affect your emotions? Without a doubt it does! I look back now at how quickly I lost my temper. I would go from 0 to 10 in an instant and there was no filter.
Since I starting ADHD medication along with doing my research on emotional regulation with ADHD, I have learned losing control of your emotions is a symptom of ADHD. It also made me feel better to learn I didn't just have a bad temper.
Now, I have learned to pay attention to the way my body reacts at the beginning of an anger episode, such as:
My face and ears feeling flushed and I "see red"
Feeling the thoughts racing from my brain to my mouth
Clenching of mouth and facial muscles
When I feel these three signs coming on, I have trained myself accordingly. Realizing now is not the time to address the issue at hand, I keep my mouth shut and walk away if I am able to.
Does ADHD make you more sensitive?
YES! It's called Rejection Sensitive Dysphoria and it appears only people with ADHD experience this. If you have experienced any of the following:
Feeling left out of a group if you didn't receive an invite or an email
Seeing a boss talk to others but not to you
Experience stronger feelings than others dealing with the same issue
Taking things to "heart" more than others
Being more sensitive to any type of rejection
Then chances are you have experienced Rejection Sensitive Dysphoria. Again, I have to quickly use "self-talk" and remind myself, "it's not always about me."

Irritable
Do people with ADHD get irritated easily? Again, YES! What makes me irritable by working in an office, as the day gets busier, people get louder.
Tuning out noise and distractions while trying to work, literally sends me into tears some days.
As I experience these feelings, I look around the office and it seems as if these types of distractions don't bother others as much as they do me:
Blowing their nose while sounding like a horn
Other coworkers talking excessively loud on the phone as I try to talk on mine
Loud office chatter in groups
Listening to other coworkers respond to angry callers
Hearing others talk about what smells arise: food, lotions, etc., as they don't bother me
Coughing excessively if sick (furthermore – stay home!)
By the end of the day, I am mentally exhausted.
Tuning out all of these distractions, in addition to doing my job, leaves me running for cover by the end of the day!
How ADHD Affects My Life
How does ADHD affect my life? Let me count the ways! Some are good and some are bad.
Good ways ADHD has affected my life:
ADHD has given me abundant energy to survive tremendous life challenges that others would not be able to handle. (I know from personal experience and output from others)
When presented with a challenge, I will hyperfocus until I get the job done!
We see the greater good in others more quickly
Seeing the bigger picture is a great attribute
Learning more quickly than others
Having the tenacity to not give up until we find an answer
Even though we have shortcomings, we are more confident than most in the long run
Bad ways ADHD affects my life:
At times, I have hyperfocused for hours and found myself in tears hours later
Speaking way too fast before my brain can catch up
Not being able to organize and prioritize seamlessly as others
Being overly sensitive at times
Judging myself too harshly
Getting frustrated easily
Being unable to learn as quickly than others at times
Feeling like a failure
Being overly sensitive
Not feeling like I "fit in" the group
Hating the numerous unfinished projects started
What are the 9 symptoms of ADHD?
Here are 9 of the many symptoms of ADHD that I experience. Each of us is different and not one of us experiences the same symptoms.
However, I can tell you that most of us who experience ADHD feel left out, not being understood and feeling inadequate.
There is no easy answer to this except self-discovery.
To Sum It Up
All in all, despite the down times I have regarding my ADHD, in the long run, I am glad for this amazing superpower!
Seeing more positive than negative and having a "can-do" attitude helps me cope with life better. Honing in and not giving up has ensured positive outcomes. Doctors and nurses have been awwed with my tenacious ways and not giving up.
However, it has taken MANY years to understand myself and to realize what "self-talk" I need to do at any given moment.
Attending therapy to understand Cognitive Behavior Therapy has been a tremendous help.
Even after all these hard years, I still have to pull out my sheet at times to real myself back in and think more clearly.
Not everything has to be perfect! We need to quit this "all black or white" thinking. Do you struggle with this every day as I do?
If you are struggling with your ADHD, I would encourage you to learn all you can about ADHD and yourself.
I encourage you to not give up and keep fighting the good fight. And stop back and comment on your high-end achievements!
If you want to be featured in a future post of what your biggest ADHD challenge is, please share what your biggest challenge you think your ADHD has allowed you to handle!