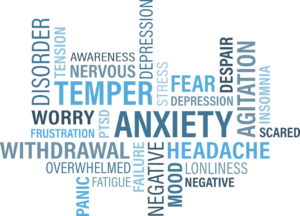 Courage, Attitude and Fortitude – These are the qualities needed to live a tenacious life.  Today, January 14th, is my 54th birthday!  As I have aged,  birthday celebrations don't have the same excitement they once did.  Birthdays used to consist of looking forward to many presents, partying at bars, and feeling old at thirty.  Celebrating at fifty-four has new meaning.  This weekend was spent making peace with tough decisions I had to make earlier in order to save my sanity and make the shift towards spiritual growth.
The Courageous Qualities of ADHD
The first painful decision was having the fortitude to detach from my sister with love from her downhill battle with alcoholism and domestic abuse.  Watching her reach an all time low and using me as her emotional punching bag has opened up old childhood wounds.  Last year I joined an amazing support group to help me cope.  Tremendous spiritual growth has taken place in the past year,  but I still have a long way to go.  Part of that process is detaching with love.  Detaching is both courageous and maddening.  ADHD qualities like courage, attitude and fortitude is what has enabled me to cope.
The Result of Not Being Courageous
The abused child inside me who would cower from mother's manic depressive insults, now cowers at my sister.   My head is bowed in disbelief  over the phones as I listen and cry at her her insults, profanity and hatred of me.   The mocking, blaming and jealousy of me is heartbreaking.   Somehow, I have become the cause of all of her pain and she will never speak to me again.  That night, I make the painful decision to change my phone number.  Making it clear my sister doesn't want my help, she refused to let me know where she lives.  Trying to understand what I have done wrong is maddening.
I tried to effect change in her life as it is clear she isn't capable of taking care of herself anymore.  I received a call on an early Saturday morning to come get her and I left immediately.  On the drive up to pick up my sister, I cried tears of joy that she was finally leaving.  As the day when on, I realized she wasn't coming back home with me. As I look back the pictures of the abuse my sister suffered is heartbreaking, disturbing and tells a story that I can't imagine being in any of the chapters.
Attitude and Fortitude
Enter learning of the 5 Second Rule by Mel Robbins.  Being one to search ways for growth, I can't believe I had not heard of Mel Robbins until a few months ago.  Instantly falling in love with her no nonsense approach, I knew this was the piece to the puzzle I had been missing.   Please check out the 5 Second Rule, https://youtu.be/6n8i7ua0mSw You will not be sorry.
Of all of the self-help books and speakers out there, Mel Robbins provides real and proven answers on how our brain works and why it works the way it does.  In order to get through this chapter of my story, I am living the 5 Second Rule daily, hourly and minute by minute.  As painful as this is, I have to keep moving forward.  It's time to pull up my big girl panties and 5-4-3-2-1- GO!
Your Courageous Life
What are you doing to move forward?  What challenges have you faced and how have you handled them?  Have you heard of Mel Robbins' 5 Second Rule?  If so, I would love to hear how you have used it in your life and how it has changed your life.