**This post contains referral links and I may make a small commission at no additional cost to you to help me with the costs of running my blog**
This past New Year's Eve, I had to make a tough decision. Dealing with the last stage of grief was now a must: Acceptance – The Longest Stage of Grief.
A few hours before the ball was to drop, my sister had called me, once again, drunk. Once again, I listened to my drunk sister with the skills I had learned in Al-Anon.
It had been a long, torturous 8 to 10 years watching the downfall of my sister.
As my sister's venom towards me spewed, my anger rose. Internally I was starting to lose self-control. Having already been through the hanging up and changing my number stage, I realized I couldn't live like this anymore.
No matter how much I still loved my little sister.
Still struggling with this turbulent sibling relationship, I finally realized one thing: I would not and could not allow myself to start out a new year under this ongoing self-destruction.
Fighting Acceptance – The Longest Stage of Grief
How long is one to suppose to keep dealing with their grief? There are many different types of grief depending on the situation and what was lost.
Accepting acceptance means we are ok with the situation at hand and it's time to move on. Acceptance is accepting things the way they are.
However – I was NOT ok with this situation and I did NOT want to move on without her.
Sadly, I realized if I stay stuck in this stage much longer, she would have won. My sister would keep having power over me since I had become weak.
The Start of Acceptance
In essence, over the years my sister had passed her husband's narcissism to me in the way she now treated me.
More importantly, I finally realized I have allowed her to treat me this way.
Finally! My true Oprah Winfrey AH-AH moment!
Accepting Acceptance- Part One
You may be trying to find the answer to the "time frame" for your grief. Here is the ugly truth: There is no time frame.
There is no "right" or "wrong" way to grieve.
Accepting acceptance has been the most difficult stage in my grief process. For me, it has taken years. Years of fighting for what is right, watching, waiting and hoping.
Like the tennis ball that pings back and forth in a tennis match, so does the different stages of grief.
Challenges That Ran the Grief Cycle
Growing up with my bipolar mother made me mentally tough. Living through life's challenge's has been difficult, but I have persevered.
Here are some of the life challenges I have worked through:
We grew up with a bipolar mother that affected me for a lifetime
Our father was murdered and remains an unsolved mystery
My husband died at the age of 40 from Congestive Heart Failure
Being a widow and single mother
Raising an ADHD-Oppositional Defiant Disorder child alone
Fighting being wrongfully terminated for ADHD – and losing
Dating a narcissist (this alone is enough to drive someone crazy)
Now I am not telling you these things to boast of what I have been through. My point is I have endured challenges that have not been easy, yet I was able to overcome the grief process in each stage.
Rejection Dysphoria
It's hard to let go of what was and worse yet: The person you loved and cared for so much has chosen to reject you.
It would be easier if my sister were dead than to accept her rejection.
Having adult ADHD since childhood, it has taken me years to realize I am more sensitive to rejection than others.
Cognitive Behavioral Therapy has helped me retrain my anxious thoughts each time I felt left out from others.
Putting serious time into the therapists' homework of retraining my thoughts has helped me tremendously.
Getting older and wiser, I thought I had it all together.
An awesome guide for starting the hard work of retraining your mind.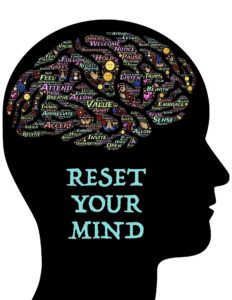 Accepting Acceptance- Part Two
This last phase of my grief journey, I have to realize one thing:
I need to get out of my own way.
In order to start moving forward, it is imperative to my sanity that I let my sister go.
More damage is being done by staying stuck.
Accepting Acceptance – Part III
For now, I have been doing the following since New Year's Eve:
Journaling. Journaling. Journaling.
Started writing a book on this topic
Giving myself permission that every day is not ok
It's ok to take a break from daily life
Most important of all: Not letting myself stay "stuck" in the past
The Takeaway
None of us are perfect. Everyone deals with their life issues in their own way.
How about you? Are you struggling with someone now? What are you doing to handling it? Please let me know and comment below. Please comment and share your story.