30 Day Food Tracking Challenge Follow Up
**This post contains affiliate links and I may make a small commission at no additional cost to you, to help defray costs of running my blog.  Thank you!!
First, I want to apologize for this follow-up post being a few weeks late.  This post is a follow-up from the 30 Day Food Tracking Challenge that my fitness buddy and I started on October 4th and you can read about it  HERE.    Even though I tracked consistently for 30 days, I still haven't dropped the weight I had hoped for.  I have been using the My Fitness Pal application and was using the same metrics to track food and exercising as my fitness buddy, Gina.  We both are on the 1,200 calorie plan and eat our exercise calories.
When I exercised, I would input the exercise class for the calorie increase.  I am wondering if this is what caused me to not lose weight as fast since I started using the My Fitness Pal application.  (Or, is it really because of my aging body and being menopausal?)
After tracking my September status, I should have lost 6 pounds but I didn't, and that is why we started the food tracking challenge for October.
30 Day Before And After Pictures
You can see our before and after pictures here below.   Gina lost 1 pound and I gained 1 lb.  There is a noticeable difference in Gina's 30 day pictures and a slight difference in my 30 day pictures.

Food Tracking Stats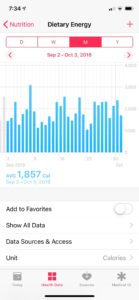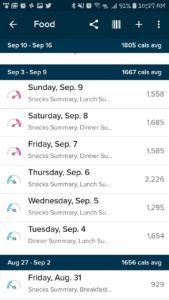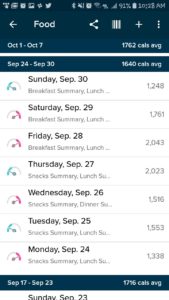 Exercise Routine
I have to admit the past few weeks, I haven't been as motivated due to my health issues and not sleeping as well and have missed a few workouts.   This week, however, I am jumping back in the saddle as I can feel myself wanting to fall into a slump with the colder weather approaching and my upcoming surgeries.  This has been our exercise routine since the end of June:


Our exercise routine was similar and is as follows:
Monday – Pilates
Tuesday – Spinning
Wednesday – Muscle Pump
Thursday – Spinning
Saturday – Gina – HIT Class
Debbie – Muscle Pump
Doctor Puts Me On Anti Inflammatory Diet
Due to recent health issues, I had to see a specialist on October 11th and this is when I learned of the anti inflammatory diet.  The doctor immediately mentions  Dr. Weil's Diet  to me.   Next month, I am having carpal tunnel surgery and the doctor mentions nerve damage to me and I suddenly become scared.  The doctor discussed the benefits of eating fresh, unprocessed foods and limiting alcohol.  We talk about other ways for me to unwind at the end of day.
I have been snacking on more processed foods lately and drinking more lately due to the stress at work from recent job layoffs and you can read about that HERE.   However, as I reflect back on health issues I have had in the past few years with no explanation for them, I am becoming convinced this anti inflammatory diet could be the missing piece of the puzzle for me.
This explains why after I eat I am often bloated, feel inflamed and plain miserable, which as been an ongoing problem for years.  I am forever looking to change my diet.  Swinging back and forth, I eat healthy but will indulge depending on the day.  With much thought, I realize this has to change.  Although my blood test are normal, I didn't realize there could be other health issues to look out for.
My IBS has gotten worse this year and I had bout with severe constipation in May and now Miralax every day.  I also mix in a packet of Emergen-C that has antioxidants and electrolytes that I have found are becoming more important for me as I get older.
New 30 Day Tracking Challenge
Gina is going to increase her protein intake with this next food tracking challenge.  My 30 goal started out to watch my carbohydrate intake and changed after a visit with my doctor.  Now, I am following the anti-inflammatory diet and keeping track of symptoms.  I am also not going to eat my exercise calories.
Those first few days, I was irritable, depressed and felt deprived.   Then I realized, in order to enjoy following this as a way of life for health issues, I need to "pick my poison" so to speak.  Wine is my "chocolate" and I have since changed to drinking a red, dry wine.  Red wine has a lower sugar content that those of my favorites:  Riesling and Pinot Grigio.
Do you want to join in on our 30 day tracking challenges?  If so, please sign up to receive your FREE 30 day tracking sheet and join us in the fun of getting healthier!
https://www.pinterest.com/pin/766667536543009877/